CUSTOM

MASS SPORTS

SUITS
Cowhide
thickness 1,3mm

Kangaroo leather
thickness 0,9mm

from € 579

from € 849
Whether you want to crisscross the roads in all weathers or burn the rubber on the circuit in search of better times, Mass Sports offers leather suits, tailor-made, adapted to your personal needs.
Our latest generation of leather suits have been tested and approved at the highest level of competition around the world: MotoGP, Superbikes et World Endurance Championships.
Safety first !
MASS Sports pays special attention to details when designing your suit, to guarantee you comfort and elegance, but while keeping absolute priority to the safety of the products supplied.
For the choice of our materials, MASS Sports therefore relies on the highest quality and ensures that all necessary safety standards are respected. The greatest care in the manufacture and continuous improvement of products are the non-negotiable standards of MASS Sports.
For optimal resistance, the seams are tripled in exposed places in the event of a fall.
Tailored
All MASS Sports suits are tailor-made. We will provide you a detailed guide which will allow you to take your measurements correctly. All the measures are explained and accompanied by photos to avoid any risk of error.
Individual Design
Available in 1 or 2 pieces, the Mass Sports suits are tailor-made, in cow or kangaroo leather, 100% customizable. The designs will be made by Sainte Hia Graphics, you will be able to personalize your suit, according to your wishes, with your sponsor logos, your favorite brands, ... so that it is unique and like you.
Inner Protectors
For maximum safety MASS Sports suits have CE level 2 protections on the shoulders, elbows and knees, foam padding (hips, tailbone, back, upper arms) and double-layer leather on the buttocks, front- arms, knees and shins.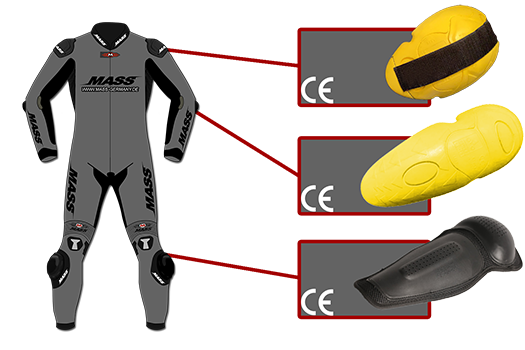 Sliders
The knee and elbow sliders can be selected in 6 different colors, they are characterized by their anatomical shapes and their special composition (80% polyurethane, 20% polyamide). Elbow sliders are much softer than knee sliders.
On MASS Sports sliders, it is possible to replace the wear area with two easily accessible screws.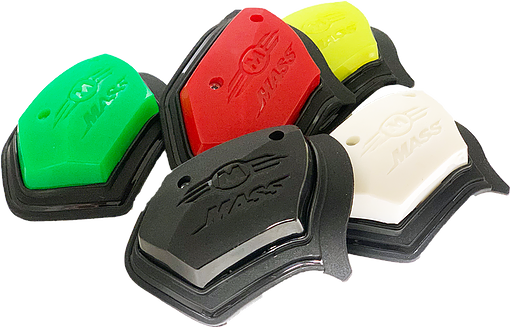 Inner lining
The inner lining of the suit contributes greatly to comfort and breathability. We offer it removable (zipper) or fixed (securely sewn).
External protectors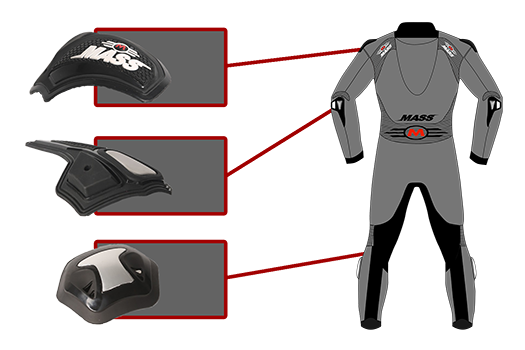 A special non-slip «MASS Sports» grip is sewn inside the knees for better grip on the tank.
Aeration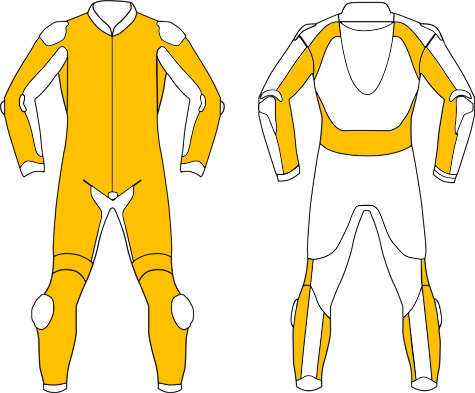 The leather is perforated with numerous small holes in order to offer the pilot a suit as airy as possible.
With perforation, the leather does not lose its tear resistance or its stability.
The disadvantage of these perforations is clearly the water permeability. You can choose the areas where you want the leather to be perforated.
For better freedom of movement, MASS Sports suits have Keprotec® areas under the arms, between the legs, at the wrists and behind the knees.
​
25 leather colors
You can choose from 25 different leather colors. MASS Sports can also produce other colors using a special printing process. For tanning and coloring of leather, only approved substances compatible with the skin are used.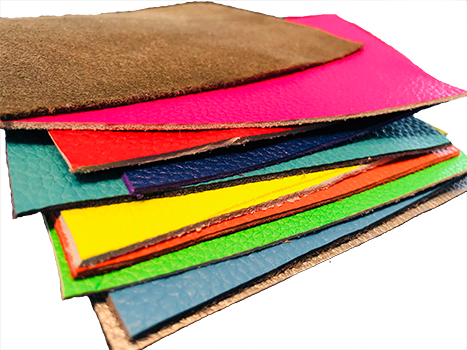 Sponsoring
For teams and / or drivers in national, European or World championships, all sponsorship requests will be studied.
Send us an email with your sponsorship file and your presentation.
Additional options
SAS-Tec™ Protectors
DWe now also offer SAS-TEC™ brand protections to replace standard protections. SAS-TEC™ is an innovative producer of protections with many years of experience in this sector. It is one of the best brands of protections currently available on the world market. Ask us for more information.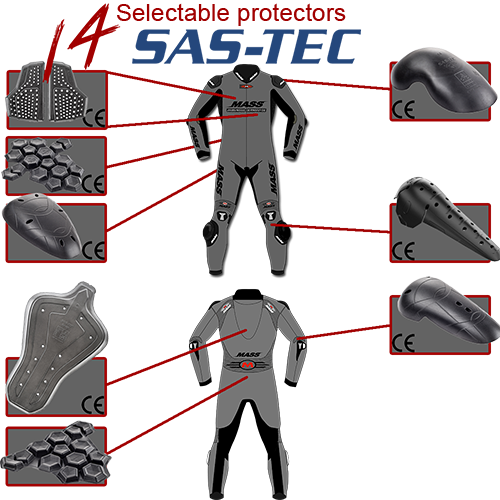 Airbag
In the MotoGP World Championship, airbags have been mandatory for several years. Airbags are now also available with MASS Sports suits.
The suit will be prepared with additional expandable areas and mounting points inside to fix the airbag. We will integrate the Helite electronic airbag, controlled by a sensor. This airbag is CE certified and benefits from a 2-year warranty extendable FREE to 4 years by registering on the manufacturer's site.