Order process
We have a well-established order process. Since these are tailor-made and fully personalized suits, it is not possible for us to deviate from these rules.
How to order ?
1st step: contact

You contact us on our Facebook or by This email address is being protected from spambots. You need JavaScript enabled to view it. by sending us:
your full contact details with email and, if possible, telephone number
the list of products that interest you
2nd step: quote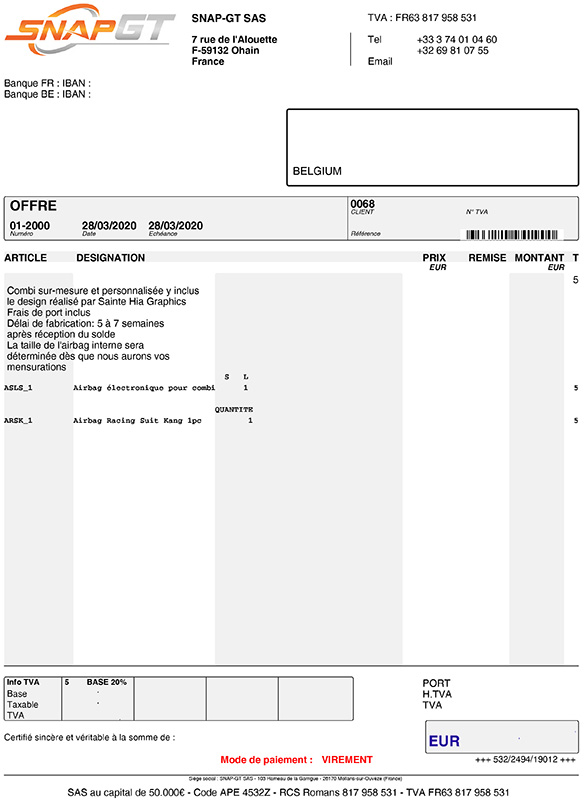 We will establish a quote with your requested products and options. We will ask you to return it to us with the mention "For agreement". To confirm your quote and proceed to the next steps, we will ask you to make a transfer of € 100, as a deposit, to one of our bank accounts. To speed up the procedure, you can always send us proof of the transfer, this saves a few days.
Before long, we will have an online module that will allow you to establish the quote yourself..
3rd step: personalized design and measurements
We will put you in touch with the designer who will contact you to find out your requirements. If you have logos/designs/... to put on the suit, you should send it if possible in HD or vector. If you do not have some of these graphics in sufficient quality, the designer can recreate them but, in some cases, you will have to provide a small supplement. This will be discussed, anyway, before doing the work.
We will send you a PDF file which contains all the measures to be taken (26 for men, 38 for women). This guide explains how to take the measurements. This step is important and must be done carefully, we will be there to advise you if you ever have a doubt.
As soon as the design and measurements are validated, we can move on to the next step.
4th step: production of your products
To be able to start production, tailor-made and personalized products will be invoiced. Only standard options (such as the airbag) will be invoiced at the time of shipment of your order. As soon as we receive your payment, we will send all the information to the manufacturer so that the latter can plan production. It takes 5 to 7 weeks (depending on the factory workload) for us to receive your order.
As soon as we receive your order, we check that everything is correct and we establish the invoice for what would not have been invoiced. Upon receipt of this payment, we send the products to the delivery address that has been agreed.