MASS Sports

gloves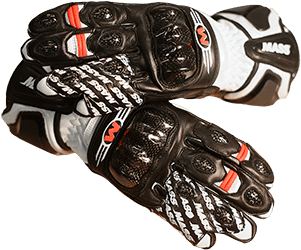 MASS Sports offers cowhide or kangaroo leather gloves. The six different sizes (XS to XXL) meet everyone's needs. Custom gloves are only available with the purchase of a MASS Sports suit.
Variants
Cowhide leather
thickness 1,2mm

Kangaroo leather
thickness 0,8mm

€ 99

€ 119
Materials
MASS Sports offers gloves of very good finishes and high quality.
For the gloves, fully customizable, MASS Sports use only quality materials. Gloves are made, as standard, from highly abrasion-resistant cowhide leather. It is also possible to order them in kangaroo leather, lighter and more flexible. The wrists are protected by a protector and a special shock absorbing foam underneath, the little finger is sewn to the ring finger to provide additional protection. External seams at the fingers provide a comfortable fit.
Personalization
As usual at MASS Sports, there is almost no limit to the design, Sainte Hia Graphics will create the design of your gloves, perfectly suited to your leather suit. Everyone decides whether they want solid black or striking fluorescent colors. You can also put your own logos and race number to customize your gloves as much as possible.